Global feed production surpasses 1 billion metric tons
Global feed production surpasses 1 billion metric tons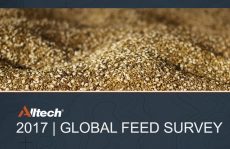 Global feed production surpasses 1 billion metric tons for first time, with fewer feed mills.
The results of the sixth annual Alltech Global Feed Survey are in, and it appears 2016 was a major mile marker for the global feed industry. For the first time, the world produced more than 1 billion metric tons of feed in a single year, and, interestingly, it did so in 2016 with a 7 percent reduction in feed mills.
Alltech's annual survey gleaned its data for 2016 from more than 30,000 feed mills in 141 countries, making this year's analysis the company's most robust to date.
According to Aidan Connolly, Alltech's chief innovation officer and the author of the yearly survey, there were several headlines from the 2016 data.
For more detailed results click here
source: Alltech